I don't know if it's clear from all my posts or not, but... I'm done! With redoing the blog template, my remodel is basically done. All I have to do now is wait a week, then move the new store down and get rid of the old one. (I also have to finish my landscaping, but I can't do much on that front right now, as I'm not sure exactly how the new store is going to sit, and I've nearly run out of prims.)
And here are some pictures of my little island way on the sim corner. I'm really pleased with it, even if it does prove that I really don't know the meaning of the words "too much."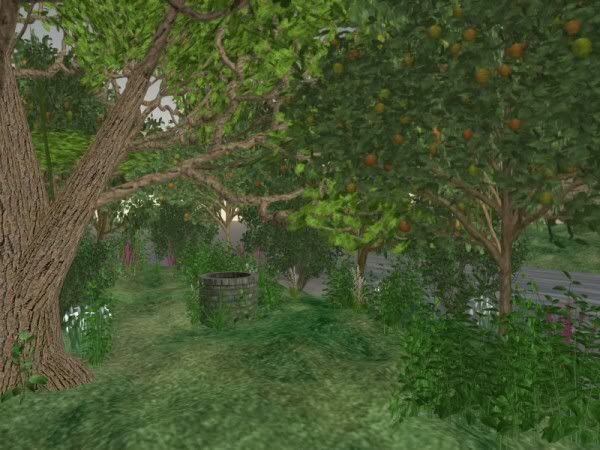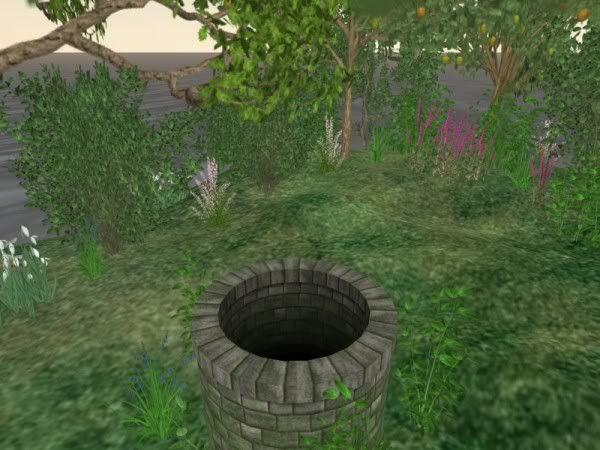 I love my wishing well. It gets dark a little too quickly for me, but I didn't really have much choice in that. (Besides, it's a wishing well! If a magic well can't get dark faster, what can?)
I also put some sound in, because it's just a pretty little area outside of the store. I know some people don't like sound, but I really think that in this case, it enhances the environment. I'm using the Country Ambiance system from
SmartSounds
(which, unfortunately, doesn't seem to have an in world store), and I highly recommend it. You can set the volume and how often it plays sounds, and it's not repetitive -- I'm fairly certain it doesn't use a sound loop at all. And it plays different sounds at night! I'm not sure what on earth the "unique Spatializer technology" mentioned on the product pages is, though, and I wish the prim could be modified. I'm not normally short on prims and I just hid the thing in an oak tree, but it'd be nice to be able to stuff the sounds and script into an object I'm already using, or at least turn the prim transparent.