In this entry: this week's release, a sale, and a call for models.
This week's release is another set of hand painted eyes, all with smaller irises for a more realistic look. They're available singly or as a collection of all four eyes, and are sold in both copy/mod/no transfer and no copy/mod/transfer versions.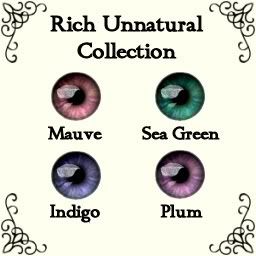 The sale: not everything is coming with me when I change builds, since they don't meet my standards anymore. Some things are being discontinued, and others are being cut down. All of these are 50% off, and marked with signs saying so. The sale will last for two weeks, and after that, the store will switch.
For the interested, here's a list of what's going:
Flora: the prim pieces are being removed, and the rest will be sold at a lower price.
Queen of Heaven Gown: going away entirely.
Queen of Heaven Jewelry: the tiara is staying and will be sold at a lower price; the earrings are going.
Dancer: going away entirely.
Fairy Tale Gown: will no longer be sold at my main store location.
And now for models: my new store will have a live modeling stand. Models will be asked to join a group, and to wear items they've been given. In return, they get free stuff, selected to look good on their avatar, and a small amount of payment for actually modeling. (The stand is essentially a useful camping chair.)
People interested in modeling should toss me a notecard containing snapshots of their avatar, including one full body shot and one face shot. I'm interested in avatars with realistic appearances, and people should either have or be willing to adopt a classy, conservative look. (I've got nothing against tattoos and unnatural hair, but they just don't fit in with the look of my store.)