Medallion is a prim necklace, inspired by Medieval and Renaissance jewelry. (Or Medieval and Renaissance jewelry I saw on a quick Google search, at any rate.)
It comes in three metals (gold, black, and silver) and nine different gemstone colors. Each box comes with two versions of the necklace: one with the gemstone of your choice with diamonds (like what the model's wearing), and one with just that gem. (The diamond version of the necklace, meanwhile, comes in an all diamond version and one that's diamond and jet.) All the gem textures are entirely hand painted.
It's sold singly or in collections of all gold, black, or silver pieces. Choose your permissions: you can buy both copy/mod/no transfer and no copy/mod/transfer versions.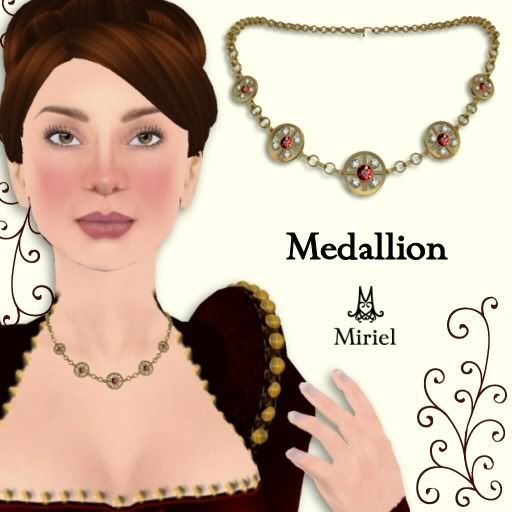 (Skin: Rose Au Naturelle in Rosy, by Tete a Pied; hair: Refined in Chestnut, by ETD; lashes: Thick, by Lynnix's Lashes; dress: Solstice in Burgundy, by RFyre)
That skin is was absolutely perfect for that picture.