This week's release from Miriel is Moon and Tide, a jewelry set consisting of a necklace and earrings. The necklace has a mother of pearl pendant and pearl accents, while the earrings have pearl accents. Both the pearls and the mother of pearl are entirely hand drawn. (And believe me, that mother of pearl was tricky.) I actually threw the prim work together in a couple of days -- the design just popped into my head, and so I made it. A good choice, I think.
It's available in four metals (gold, silver, copper, and black) and eight different mother of pearl colors, and in single versions or collections of all gold, silver, copper, or black sets. The copper never sells very well, but I thought it was appropriate for this piece.
Both copy/modify/no transfer and no copy/modify/transfer versions are available.
Demos are available, too.
Get it at my store at
Nouveau 115, 205
.
(Skin: Gala Skins; hair: ETD; lashes: Sin Skins; eyes: me)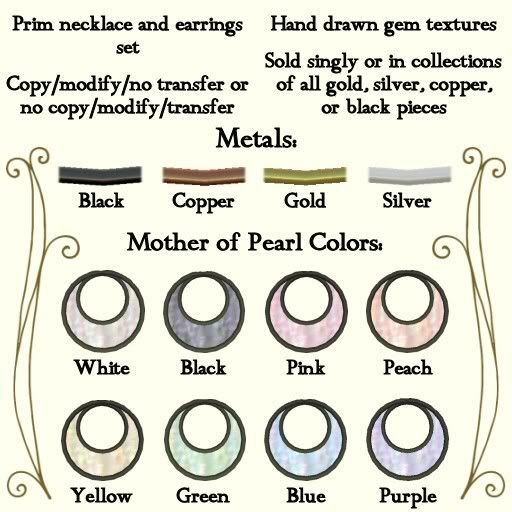 In other news, I've seen one of the new things that
Tete a Pied
is working on. I don't think I'm allowed to tell you what I've actually seen, but I assure you, it's
jaw dropping
. It's one of the best in its class. I do not exaggerate.