This week's release from Miriel is Antiqued, a bracelet set with semiprecious stones. It's available in four metals (antique gold, bronze, black, and old silver) and nine stones, and all the stone textures are entirely hand drawn. No photosourcing, no texture baking, just work and a Wacom tablet. All boxes come with two copies of the bracelet: one for the right wrist, and one for the left.
Sold singly (L$80) or in collections of all antique gold, bronze, black, or old silver items (nine pieces per collection, for L$230). Choose between copy/modify/no transfer and no copy/modify/transfer.
Want to see it on yourself first? Try one of the demos available.
Get it at my store at
Nouveau 115, 205
.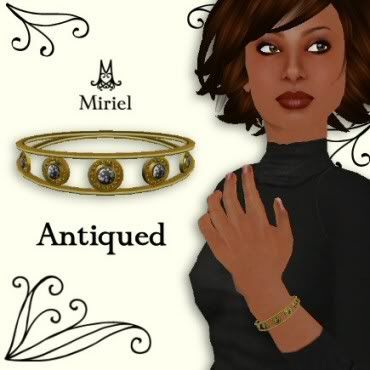 (Whew, and I had to rush this one! I built it last night at 3 AM after
finally
having some inspiration, and then finished it up today.)