This week's new item from Miriel is Bird of Paradise, a piece of head jewelry with pearls, gemstones, and carefully sculpted feathers. Like all jewelry from Miriel, it's scripted so that you can turn shiny and full bright on and off.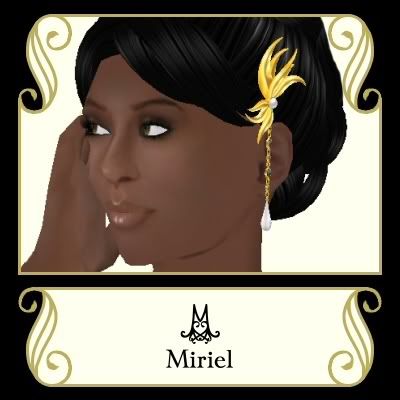 Available in three metal colors (black, gold, and silver), two pearl colors (black and white), and seven gemstones (amethyst, citrine, diamond, emerald, jet, ruby, and sapphire).
L$125 for a single color. L$1200 for all fourteen black, gold, or silver pieces. Copy/modify/no transfer or no copy/modify/transfer -- your choice. Demos are available for all colors.
Get it at
Miriel 135, 64
.
(For the curious, this was VERY loosely inspired by Jeanne's headdress
here
. I was originally going to have it be a single piece that wrapped around the back of the head, but thought that would cause issues with different head widths. The end result can probably more accurately be called a hairpin than a headdress, but eh.
Oh, and I had a bit of a disaster when I first put this out. Only after I had the vendors all set up did I realize that -- oops! -- I'd forgotten to make the alpha channels 100% transparent on the sculpt maps. Took me an hour and fifteen minutes to fix, and it would have taken much longer had I not known how to script.)